The following article provides details on our enhanced administrative control feature, as well as how admins can now invite new users to your digital firm dashboard space.
Steno now provides client firms even more access into their accounts. This new access allows your Steno Firm Dashboard administrator to have direct control over who can access your firm's invoices, retrieve order materials, and request new jobs.
If you are not yet familiar with the Firm Dashboard, you can see an overview and one-minute video introduction here: Steno Firm Dashboard
Steno clients now have the ability to assign any employee "administrator" status on the firm's Dashboard. This status allows the admin(s) to grant and remove access to any other employee, without having to reach out to Steno. For example, if a new employee in your firm's accounting department needs access to your Steno statements of account, your Dashboard administrator can grant that new employee access into the Dashboard with a just a few clicks!
Admins can also invite other colleagues to join the Dashboard as an additional administrator.
Until your firm selects its Dashboard admin(s), all Dashboard users will see this reminder banner: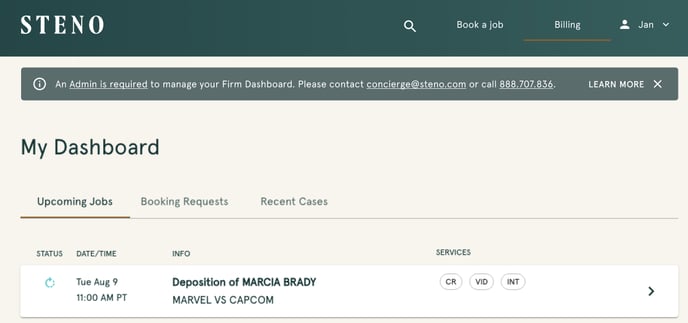 Once your firm has notified your Steno Account Manager which employee(s) should be granted admin status, each admin will notice a new "Users" tab on the Dashboard:

If the user selects the "Manage" option in the dropdown, they will be directed to the the users page where they can see all users associated with the Firm Dashboard account - organized by Active, Inactive, and Invited users.
Active Tab
In the "Active" tab, admins will see a list of all people associated with the firm that have access to the Firm Dashboard. Each person listed here can book new jobs, view and pay invoices, and access order materials associated with the firm.
In the "Role" column, admins can easily see each member's account status. If an admin would like to change an existing account from "User" to "Admin," or vice-versa, then please reach out to your Steno account manager for assistance.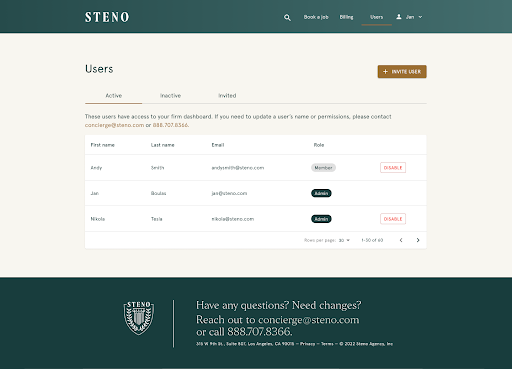 On this page, admins can also disable active user accounts (but you cannot disable "Admin" accounts from the Firm Dashboard). When you disable an existing user, you will also be able to indicate whether that person has left the firm.
Inactive Tab
All deactivated accounts will be listed on the "Inactive" page. If a user with a disabled account was marked as "no longer works at firm," this note will be indicated in the table.
In this tab, admins will not only find users that were manually disabled but it will also shows users that have done work with Steno but do not have a dashboard account yet created.
To offer Dashboard access to an inactive user, just click the "Invite" button.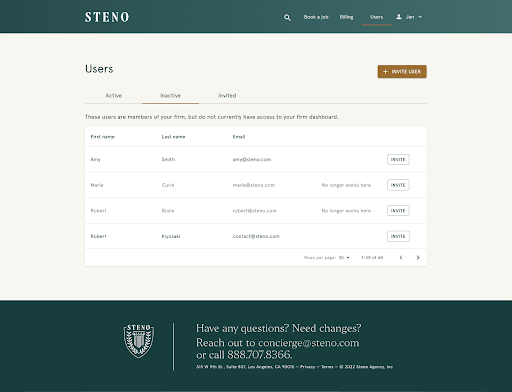 You'll enter these few items - it just takes a few seconds!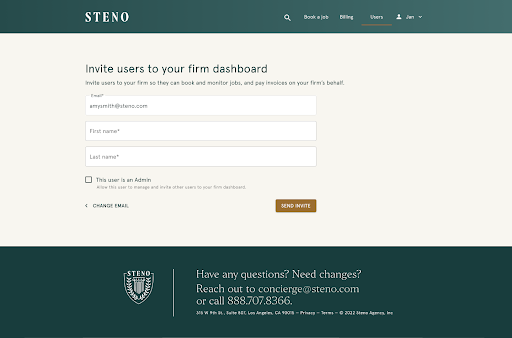 It's that simple. Your invitee will see this message, via email: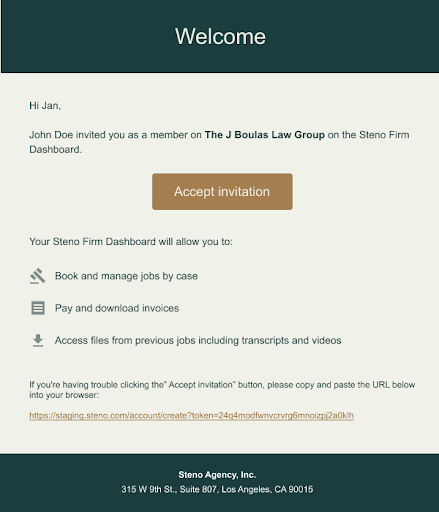 With these details in mind, Steno recommends the following:
Admins should only send Firm Dashboard invitation links to people employed at the firm and authorized to access account information. Steno is not responsible for the invites your admins send out.
Have more than one admin associated with your Firm Dashboard account in case your current admin leaves the firm.
Invited Tab
In the "Invited" tab, admins will see all users that were previously invited to the dashboard but have not yet set up an account. If the invited users can't find the invite, you can re-send the invite by the dropdown to the right of the user name.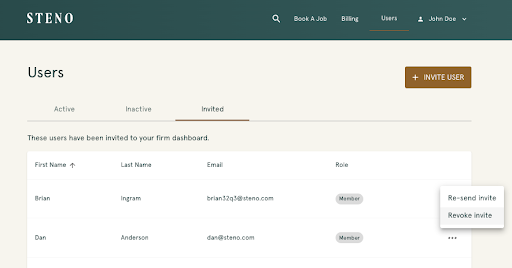 You can also revoke a previously sent invite which will disable the user's ability to create a future account.
Ready to Get Started?
If you're ready to take advantage of this important new feature, please reach out to your Steno account manager to notify us who should have the initial admin privileges for your firm. You can always reach an account manager at: concierge@steno.com.