A court reporter's complete guide to preparing a remote office that's optimized for virtual depositions and proceedings.
There are many ways to set up your technology in preparation for court reporting remotely with Steno Connect. There is no right way, but you should answer "yes" to each of the below questions.
Do I have the technology I need to write a transcript?
Can I capture the audio feed into my computer-aided translation (CAT) software-enabled laptop?
Can people see and hear me?
Can I see and hear everyone else?
Table of Contents
Device Selection
Set your workspace up the same way you would if you were taking a deposition in person. Then decide which device and operating system you'll use to join the videoconference. You can use your cell phone, a laptop, or a desktop computer.
Your device must have a dual-core 2Ghz or higher processor. It must also have a RAM of 4GB or higher.
Most modern computers and devices already come with a camera, a microphone, and speakers that work well for most people. However, if your device doesn't have a built-in camera and microphone, you will need to purchase those separately. We recommend these:
System Requirements
Whichever device you decide to use, you'll need to ensure you have a stable internet connection. You can run a speed test on the device to determine how much bandwidth you currently have.
Your connection, broadband wired or wireless should have a minimum bandwidth of 1.0 Mbps upload and 2.0 Mbps download speed.
If your device is connected to Wi-Fi wirelessly and the speed is too slow, we recommend connecting your device to your router with an ethernet cable.
Steno Connect works with the following operating systems, but Windows 10 or macOS are recommended for the best experience.
macOS X with macOS 10.15 or newer
Windows 8, 8.1, or 10
iOS iPhones and iPad, OS 13.6 or newer
Android smartphones and tablets
Our signature web-based videoconfrencing platform can also be accessed via these supported browsers:
Windows 10: Google Chrome, available for download
Windows 8: Microsoft Edge
macOS 10.5 or later: Google Chrome or Safari
iOS: Safari
Android: Google Chrome
Zoom regularly provides new versions of the Zoom desktop client and mobile app to release new features and fix bugs. We recommend upgrading to the latest version once it is available. You can check for updates here.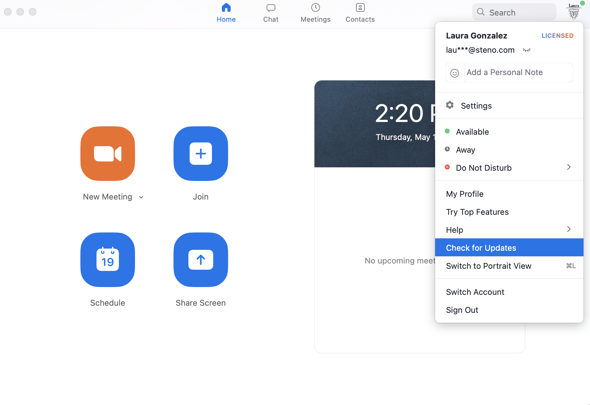 Audio Considerations
Every word matters, and we know how important it is for you to have the best audio quality possible, so you don't miss a syllable.
You will need a speaker and microphone. You can use the built-in options if your device is equipped with them. If not, you can rely on a wired, USB, or Bluetooth headset.
Using external speakers helps to provide a rich, clear sound from the remote deposition. Your speakers don't need to be fancy but should be from a reputable manufacturer. We like these; they are affordable and effective.
The external microphone will help ensure everyone can hear you. Garbled sound leads to inaccurate transcripts, which are not suitable for anyone. We recommend this microphone from Blue Yeti, which has outstanding sound quality.
In some instances, external speakers and microphones may not produce clear enough audio quality for your needs. We highly recommend using a noise-canceling headset with a built-in microphone. This option plugs directly into your laptop or desktop computer with a USB. If you're using a phone, there are numerous wireless Bluetooth earbuds with built-in microphones based on your operating system.
Prepare Your Space
Your environment is almost as important as the technology you use. Position yourself in a well-lit room with a simple professional background. Make sure you are facing the best light source available. If your room is darker than you want, you can use an external light source like this one.
Do not forget about what is behind you. Try to position yourself in a neutral environment so the background does not distract from the job you are doing. Steno can provide a backdrop to you by mail, contact us if you'd like to request one.
The camera should be at or slightly above eye level. When speaking, try to make eye contact with the camera versus the screen. Lastly, think about the location where you'll sit. Depositions can take hours, so your chair should be comfy, and the room should be quiet to separate yourself from noise and distractions.
Practice in Advance
Test your setup before the day of the deposition. You can schedule a one-on-one Steno Connect training session with a Steno staff member at a time that works for you. In that session, we'll make sure your camera, speakers, and microphone are working. We'll make sure you can see other participants too. We'll also teach you how to customize your view and share, mark, and download exhibits.
Short on time? Watch this prerecorded Steno Connect platform demonstration for an overview. Our Head of Video Training also answers some of the most commonly asked questions about the software.